Layer Cake Lab
In collaboration with Sonja-Vanessa Schmitz 
  Layer Cake Lab points out the ecological issues of art in public space.
We were invited to create an artwork for the Westergasfabriek Park in Amsterdam. The Westergasbabriek has a distinctive industrial history producing gas from coal until the late 1960s. Even after the conversion of the factory into a park area, the  toxic waste remains buried in the ground. Our goal of creating a site-specific artwork was also about creating a solution for setting up art in a difficult environment.

The Layer Cake Lab started with a four week intense ground research on location. On a daily basis we excavated a number of ground samples in accordance to specific bore hole patterns. This took place in a performance setting, working in a secluded part of the grass area wearing protective suits. All samples were analyzed and evaluated in our stationary laboratory, operating from the Artist-in-Residence building next to the test area. First we developed different remedial measures to expurgate the polluted ground, but then opted for a different approach namely the thickening of the upper layer with a special art-friendly ground. We donated 40 cubic meters of this ground to the City of Amsterdam in the form of a big hill, dumped on location. The hill came with a bow, wrapped in a red ribbon and is a substantial improvement of the environment.
year 2009
performance, artwork in public space, video, internet, artist-in-recidence more info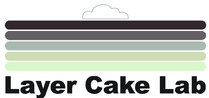 visit our website at www.layercakelab.org